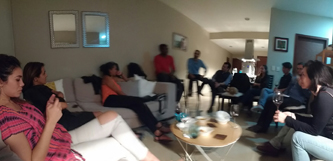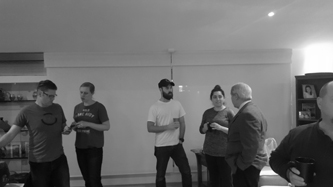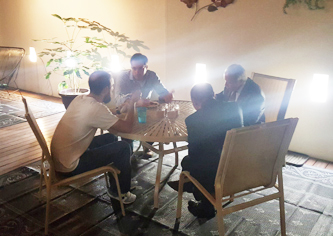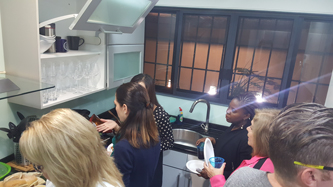 A lot of life happens between Sundays!
That's why we made this page…
The church is like one big, giant family. So for us it is less about programs and more about people, less about structure and ceremony and more about sharing life.
And making an impact in the city together.
To pursue this vision for fellowship we have Small Groups in different parts of the city (See below).
You will also find information on Small Groups from Comunidad Cristiana Roma and Iglesia Doxa, Spanish-language churches with whom we partner in the gospel.
OUR SMALL GROUPS…
Tuesday (in Spanish): Santa Fe, 7:30pm. Hosted by Duane and Liliana Nisly. For more information contact Duane: duanernisly@gmail.com
Tuesday (in English): Northwest Polanco, 7:30pm. Hosted by Barry and Geri McLeod. For more information contact Barry or Geri: barryngeri@gmail.com
Wednesday (in Spanish): Lomas, 8:00pm.  Hosted by Eduardo and Rocio Espino. For more information contact Rocio: trejo.rocio@yahoo.com.mx
Wednesday (in English): Southeast Polanco 1, 7:30pm. Hosted by Brian and Sarah Getter. For more information contact Sarah (sarah.getter@yahoo.com) or Brian (bhgetter@gmail.com)
Wednesday (in Spanish): Nonoalco/WTC, 8:00pm. Hosted by Danny and Miry Negrete. For more information contact Miriam (miriam.miranda@outlook.com) or Daniel (dnpastrana86@gmail.com)
Thursday (in English): Southeast Polanco 2, 7:30pm. Hosted by Barry and Geri McLeod and Nate and Brittany Ankerman. For more information contact Barry: mcleod.barry@gmail.com
Thursday (in English): Northwest Polanco, 7:00pm.  Hosted by Alejandro and Karla Muñiz. Meets the first and third Thursdays. For information contact Karla: karla.rodriguez210@gmail.com
Thursday (in Spanish): Bosque Real, 7:30pm. Hosted by Duane and Liliana Nisly. For more information contact Duane: duanernisly@gmail.com
Sunday Morning (in English): Adult Sunday School Class, 10:00am. Hosted by Jack Honey and Brad McBride. Meets in Union's Sala. For more information contact Jack: jhoney@tutsi.com.mx